CorelDRAW Graphics Suite is your fully loaded professional design toolkit for delivering breathtaking vector illustration, layout, photo editing, and typography projects with total efficiency. A budget-friendly subscription provides incredible ongoing value with instant, guaranteed access to exclusive new features and content, peak performance, and support for the latest technologies.
Professional design tools at your fingertips
Vector illustration: Use CorelDRAW's powerful vector illustration tools to turn basic lines and shapes into complex works of art. Create curves with many versatile shaping and drawing tools. Add creative effects to your vector artwork with effect tools like Contour, Envelope, Blend, Mesh Fill, and more.
Page layout: Find all the tools you need to create layouts for brochures, multi-page documents and more. Toggle between single page and multipage editing, giving you creative freedom to work the way you want.
Typography: Arrange type beautifully with a complete set of typography tools. Add effects to text like block shadows and contours, fine-tune fonts responsively with variable font support, fit text to paths, and more.
Font management: Organize and manage your font library with the intuitive Corel Font Manager, and use your favorite fonts without installing them. Work faster with fonts using the network storage feature, and enjoy direct access to over 1,400 Google Fonts families.
Photo editing: Adjust color and tone, remove imperfections, correct perspective and more with Corel PHOTO-PAINT's powerful layer-based photo editing tools. Improve the size and quality of your images with artificial intelligence, and use AfterShot HDR to create stunning High Dynamic Range photos from your RAW images.
Collaboration: Accelerate your creative process with a cloud-based collaboration workflow that offers a dramatically better way to connect with clients and colleagues on designs in real-time. Gather live comments and annotations from one or many contributors right within your CorelDRAW design file and resolve feedback simultaneously.
Download
(Compatible: macOS Catalina 15 or later)
How to install
Step 1: Download the installation file above.
Step 2: If you have previously installed any version of CorelDRAW, run the CorelDRAW Cleaner file> Enter your login password to remove it. Then run the following commands to block hosts
sudo -- sh -c "echo 127.0.0.1 apps.corel.com >> /etc/hosts"
sudo -- sh -c "echo 127.0.0.1 mc.corel.com >> /etc/hosts"
sudo -- sh -c "echo 127.0.0.1 origin-mc.corel.com >> /etc/hosts"
sudo -- sh -c "echo 127.0.0.1 iws.corel.com >> /etc/hosts"
sudo -- sh -c "echo 127.0.0.1 idp.corel.com >> /etc/hosts
Step 3: Run the installation file (Intel or ARM) depending on the device model you are using (M chip runs the file with the word ARM at the end).
Step 4: During installation, a screen will appear asking to enter a key, open folder number 3 > Open the Serials.txt file to get the installation key (note, this is different from previous versions).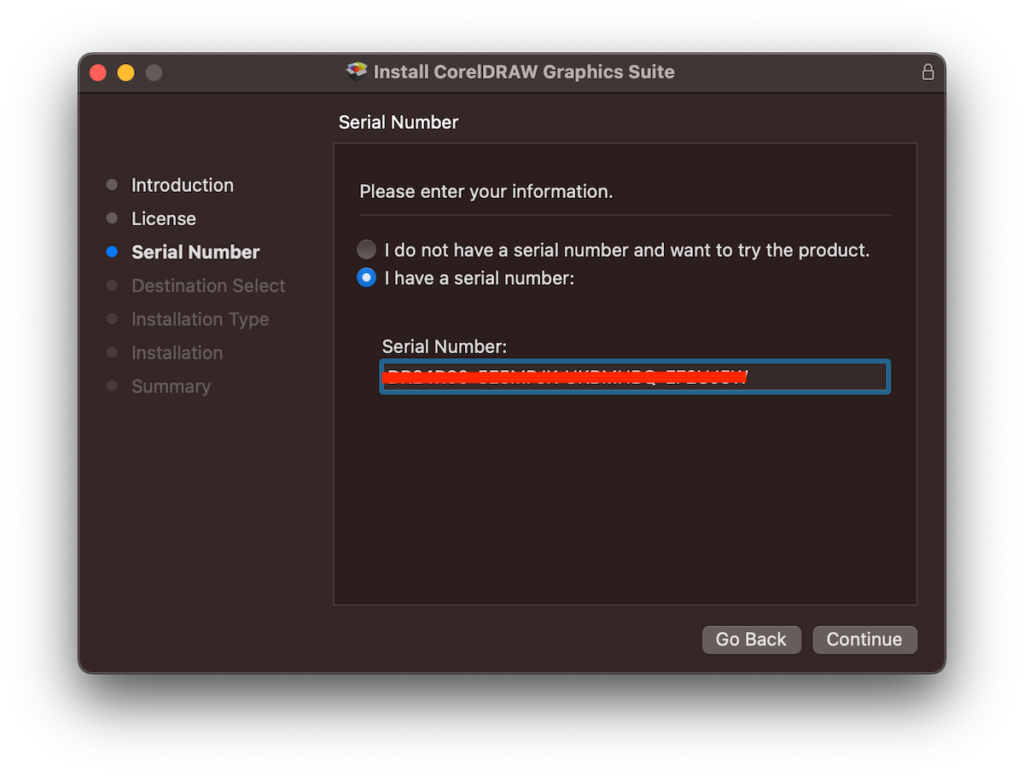 Step 5: After installation is complete. Open Finder, press Cmd + Shift + G to open the Go to Folder dialog box
On Intel: Paste the following path: /Library/Preferences/com.corel.PCU2/libPASMUtility.dylib
On M chip: Paste the following path: /Library/Preferences/com.corel.PCU2/libPASMUtilityARM64.dylib
A corresponding folder will open.
Step 6: Then
On Intel: Drag the file libPASMUtility.dylib in folder 3. Cr4ck into the folder just opened in step 5 and select Replace
On chip M: Drag the file libPASMUtilityARM64.dylib in folder 3. Cr4ck into the folder just opened in step 5 and select Replace