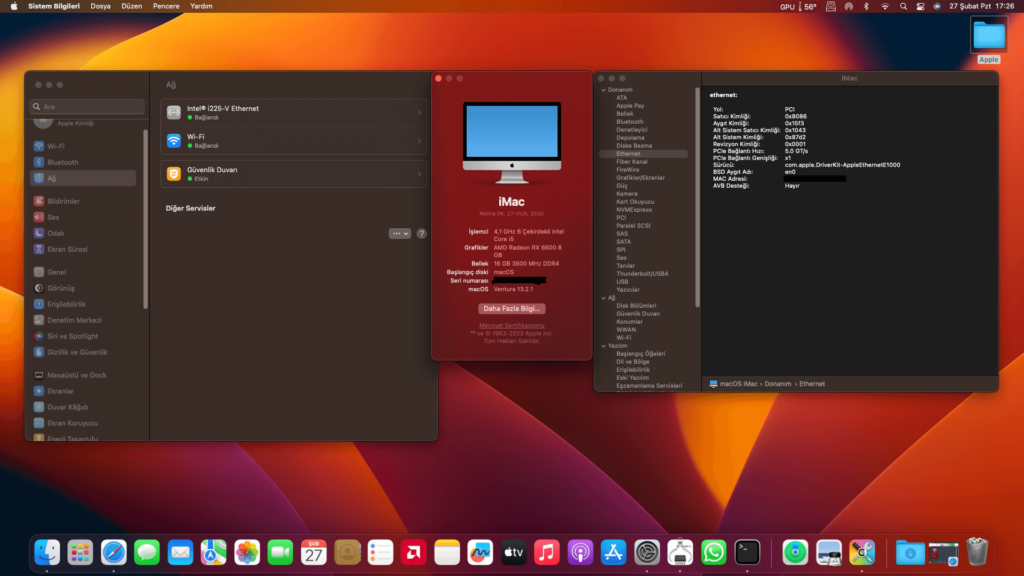 Hi,
As a result of my long researches, I gathered the system that I can install comfortably at this time last year. Last year, I installed BigSur on my system with the internal graphics processor UHD 630. I didn't want to open a successful installation topic because I couldn't recognize the intel i225-v in the system and it didn't see the ethernet adapter as en0. Most things worked on this system, but introducing the Intel i225-v and introducing other USB ports proved challenging.
When the Ventura update for macOS came, I wanted to try to run the system with the graphics card I just bought. Of course things didn't go the way I wanted and the result was disappointing since I didn't update opencore. I installed the system with the Monterey installation image and updated it to Ventura. I am using the system as DualBoot without usb. Windows 22H2 and macOS Ventura installed.
Problems I Encountered and Solution Method:
15 Port USB limitation: UsbInjectAll.kext and USBInjectAll-400.kext I was constantly getting "AppleUSBXHCIPort:resetandcreatedevice: failed to create device" error on the boot screen and various other errors similar to this, so I could not go beyond the boot screen. I have already applied these on Windows, which I use as the second OS, as specified in this forum and Dortania Usb Mapping . I chose not to Mapping the ports other than the motherboard.
Intel i225-V: In Boot arguments: e1000=0 I tried running ethernet with AppleIntelI210Ethernet.kext, but I got an "in memory panic stackshot succeeded" error at boot time. I deleted the kext from EFI/OC/Kexts and also removed it from OpenCore. I also completely removed the fakepciid.kext and fakepciid_intel_i225-v.kext kexts as they no longer support Monterey and Ventura. As a result of my research, I had some observations that the problem was fixed with AppleVTD and I read the How to Activate AppleVTD guide. After completing the AppleVTD process, Dropping ACPI TablesI added the SSDT-DMAR.aml file to EFI/OC/ACPI considering the guide and activated it from OpenCore. Some articles have been written about modding the i225-V in some forums, but I never needed modding. By removing the aforementioned kexts, I applied two ways and I had no problems with ethernet, then ethernet gained great stability.
Problems I encountered with the RX6600: After Verbose ended, I was getting No Signal error on the monitor and after a while the system would reset itself and reboot. -v debug=0x100 keepsyms=1 I deleted (Boot-args: ) and only (Boot-args: agdpmod=pikera ) remained. I did this for the last system to boot after the installation is finished. The system boots great and works perfectly.
Hardware Features:
- PSU: Corsair Rex White Series RM850x 80 Plus Gold Full Modular
- Mainboard: Asus ProART Z490-Creator 10G (Sound layout-id= 7)
- Processor : Intel(R) Core(TM) i5-10600K CPU @ 4.10GHz 6 Core - Comet Lake
- Harddisk : HP 1TB EX950 M.2 NVMe PCI-E 3500-2900MB/S 3D TLC Naad 5MS23AA
- RAM : Corsair Vengeance RGB Pro SL 16GB (2X8GB) DDR4 3600MHz (PC4-28800) C18 1.35
- Graphics Card: Asus RX 6600-8GB Dual GDDR6 128bit
- Wifi-Bluetooth : Fenvi T919 PCI-E BCM94360CD
- Keyboard : Logitech K580 English Q White
- Monitor : Dell P2722H 27" 60Hz 8ms (VGA+HDMI+Display) FHD IPS
- Audio : Dell 520 - AASI Slim Soundlar SB521A For P3221D, P2721Q, U2421E Displays
- Camera and Microphone : Logitech C505 HD Long Range Webcam with Microphone
Download:
- MacOS Version: macOS Ventura 13.2.1 (22D68)
- SMBios: iMac20.2
- Bios Version: 2601
The result is amazing.
All hardware devices are recognized.
AirDrop, Handoff, FaceTime, iMessage etc. everything I want is working actively.
Thank mozbektas