TIPS & GUIDES
How to set Google Messages to use SMS when RCS fails
RCS is a modern way of messaging on Android. Key features include typing indicators, read receipts, a larger file transfer limit, and the ability to send messages via the internet. However, RCS doesn't always work. For instance, it won't work if the other person's smartphone is turned off. If so, your message will fail.
To deal with this, Google Messages allows you to switch to the old SMS protocol to send your message instead. We'll show you how to force Google Messages to use SMS when RCS fails.
How to force Google Messages to revert to SMS when RCS fails
Rich Communication Services, or RCS for short, is a massive upgrade to the old SMS and MMS protocols on Android. With RCS, you get a nearly identical messaging experience as using one of the many modern instant messaging services.
However, one issue with RCS is it won't work if the recipient switches off their phone. To ensure your message always gets sent, you should force Google Messages to switch to SMS and MMS when RCS fails.
Here's how:
Open Google Messages and tap the three-dot menu in the top right.
Tap Settings from the menu and select General > Chat features.
In the Chat features page, look for Automatically resend as text (SMS/MMS) and tap the toggle adjacent to it to enable. A pop-up will notify you that SMS/MMS messages are not end-to-end encrypted, media quality will distort, and operator charges may apply.
If you're okay with that, select Allow to enable it.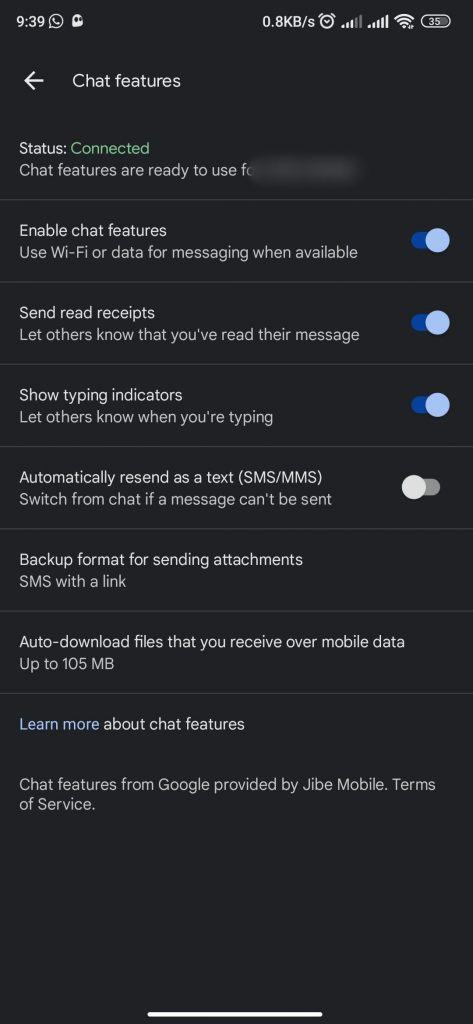 Remember, precise steps might vary a little from device to device. With the feature on, RCS messages will default back to using the SMS/MMS protocol in case of failure. If you're just getting started on RCS, here's how to check if your Android phone has RCS support.
Use SMS when RCS fails
RCS is cool, but it doesn't lack limitations. One of its cool features is sending messages instantly via the internet, but the downside is that both sides of the chat have to be connected. Otherwise, messages won't be sent.
SMS is old and doesn't have the bells and whistles of the modern RCS standard, but it is reliable and comes in handy as a fallback system.