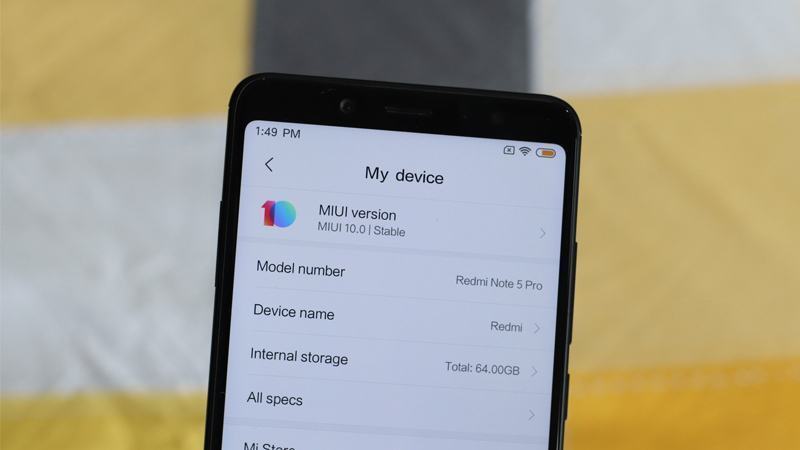 Here is a list of Xiaomi devices for which MIUI 10 ROM is available. In some cases where MIUI 10 is not available in the stable update form, you will find the latest MIUI 9 version of the ROM.
DOWNLOAD:
Xiaomi Mi 5
Xiaomi Mi 5S
Xiaomi Mi 5S Plus
Xiaomi Mi 6
Xiaomi Mi 8
Xiami Mi 8 Pro
Xiaomi Mi 8 Lite
Xiaomi Mi Max (32GB)
Xiaomi Mi Max Prime
Xiaomi Mi Max 2
Xiaomi Mi Max 3
Xiaomi Mi Mix
Xiaomi Mi Mix 2
Xiaomi Mi Mix 2S
Xiaomi Mi Note 2
Xiaomi Mi Note 3
Note: Mi Note 3 is receiving an update to stable MIUI 10.0.5 in China, which is based on Android 8.1 Oreo [Recovery file download], but since this isn't meant for the global variant, you will need TWRP recovery to install it. Alternatively, just sit back and wait for the global version to arrive, which should be really soon.
Xiaomi Poco F1
Xiaomi Redmi 3S/Prime
Xiaomi Redmi 4A
Xiaomi Redmi 4X (Indian Redmi 4)
Xiaomi Redmi 5
Xiaomi Redmi 5 Plus/Indian Redmi Note 5
Xiaomi Redmi 5A
Xiaomi Redmi 6
Xiaomi Redmi 6 Pro
Xiaomi Redmi 6A
Xiaomi Redmi Note 3 (Snapdragon variant)
Xiaomi Redmi Note 3 (Special Edition)
Xiaomi Redmi Note 4 (MediaTek variant)
Xiaomi Redmi Note 4X (Snapdragon variant)
Xiaomi Redmi Note 5 Pro/Redmi Note 5 Global
Xiaomi Redmi Note 6 Pro
Xiaomi Redmi Note 5A/Redmi Y1 Lite
Xiaomi Redmi Note 5A Prime/Redmi Y1
Xiaomi Redmi S2/Redmi Y2
How to install the MIUI 10 update
Install of the MIUI 10 update depends on the kind of file you have. Forn Global ROMs, use Method #1 below that uses the Settings app, and is very, very easy. However, if you
You need to install the MIUI 10 update using a custom recovery like TWRP. So, you need to have TWRP, which may require you to unlock the bootloader of your device first.
Note: This guide is only for the recovery flashable files in .ZIP format. If the file you downloaded from the table is in .TGZ file format, then it's flashable only via fastboot.
Method #1: Use System updater (local update)
If you downloaded the MIUI 10 update from above, here's a simple method to install it:
Download the recovery update file from the table above.
Transfer the update file to your Redmi 6 if you downloaded it on PC.
Open the Settings app, and tap on About phone.


Tap on System update.
Tap on 3-dot menu button in the top right.
Tap on Choose update package.
Browse and select the update file you downloaded above.
The system will verify the update and install it automatically. When it asks for confirmation, do confirm to allow installation. Be sure to back up important data as the update installation may delete apps and data.
Now, if the above doesn't work, then follow these steps to install it using custom recovery called TWRP.
Method #2: Fastboot method
Like with Recovery mode, installing system updates using Fastboot also requires a PC, however, you also need an unlocked bootloader for this to work, alongside these steps (click here if your device is not unlocked):
Download Mi Flash Tool.
Select your preferred MIUI ROM version from the list above and download the corresponding file. Be sure to check if the suffix of the ROM file is .tgz. If not, rename it to .tgz.
Turn off your Redmi 6 and press the Volume + Power buttons simultaneously to enter into Fastboot mode. Connect the device to your PC using a USB cable.
Double click on the downloaded ROM file and decompress it. (You can also use a free software like 7-zip to extract file's content.)
Open the file folder for the decompressed package and copy its path on your computer.
Decompress the Mi Flash Tool downloaded in Step 1.
Double click on it to install on your PC.
When the installation is done, open MiFlash.exe to run the MiFlash software.
In its address bar, paste the folder path of the ROM file copied in Step 5.
Click on the yellow circled-out button to refresh and MiFlash will automatically recognize your device.
Click the red circled-out button to flash the ROM file to the device.
Sit back and watch the progress bar inside MiFlash turn fully green, implying that the new system update has been successfully installed on your device.
Your device will automatically boot to the new software version.
Method #3: Use TWRP recovery
You can install the Chinese ROMs provided above on a respective Global variant of the device using TWRP recovery. Here's how. You can also install the Global ROMs using TWRP but method #1 is the easiest way for that.
First of all, Install the TWRP recovery on your Xiaomi device. Below are some that we have covered, but if your device isn't in the list below, use Google search to install TWRP for your device.
Download the required files:

Get the MIUI 10 update from above
DM verity disabler file, lazyflasher

Transfer the MIUI 10 update and lazyflasher files to your Xiaomi device.
Reboot to recovery mode to access TWRP recovery.

Power off your Xiaomi handset.
Press and hold Volume down and Power buttons together until you see anything on the screen. You will see the TWRP soon.

Select 'Wipe' from the TWRP main menu and do a 'wipe to Factory Reset' on the bottom of the screen.
└ Note: This will factory reset your device. Skip this step if you don't want to factory reset your device, that is, if you are already on MIUI 10 update.
Tap on the Wipe button again, and now tab on Format data button. Type yes on the next screen and then hit the enter key to confirm and format the data partition.
On the TWRP main menu, tap on 'Install' and select the MIUI 10 update file that you transferred to your device above. After selecting the .zip file, do 'Swipe to Confirm Flash' on the bottom of the screen to begin the custom ROM installation process. This may take some time.
Once your ROM is successfully flashed, you'll see 'Wipe cache/dalvik' option, select it and then do 'Swipe to wipe' on the bottom of the screen.
Install lazyflasher file too the same way.
Tap on the 'Reboot System' button to restart the device. Done!
That's it.