Adobe After Effects 2023 is the leading graphics design application which can be used to create interactive motion graphics and visual effects for film, TV, video, and the web. It provides a wide range of innovative tools and features to design animated graphics and visual effects at professional level.
It is an ideal tool for movie, TV, and audiovisual professionals to create animations, apply all sorts of effects to moving images or work on all three dimensions of their videos. The program also supports cloud storage enabling you to get real-time access and share all your creative assets including Motion Graphics templates and Adobe Stock videos across your apps, desktop, and mobile devices.
Download
How to install & active
(for version 23.6 and above, older version please NEXT go to page 2)
Note:
In the Adobe 2023 kit, only After Efect needs to Disable System Integrity Protection (SIP) to work, otherwise after Patch will crash. Those who do not want to disable SIP should install the Adobe After Effects 2022
Step 1: Download the installation file (recommended to use the latest version in the above links)
Step 2: Go to the following link to download and install Adobe Creative Cloud on the Adobe homepage first (If yes, then only) or if you don't want to install Creative Cloud, run the AntiCC file.
Step 3: Right-click on the Install file and select Open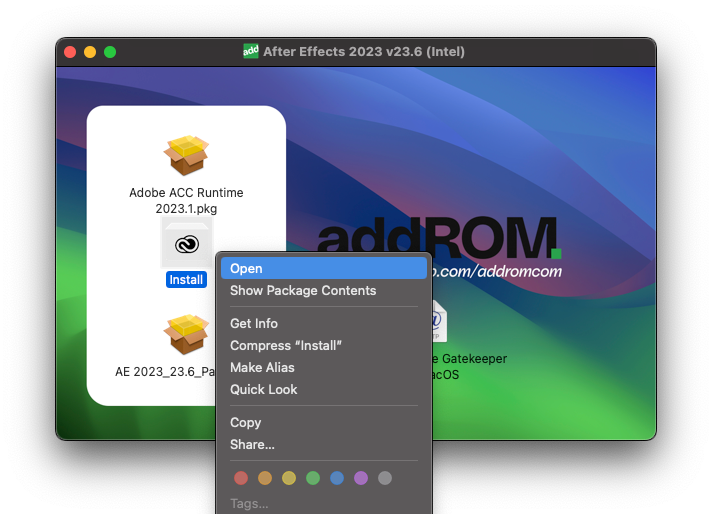 If it says Damaged, go to Install > select Show Package Contents > Contents > MacOS > run the Install file to install
Step 4: The installation interface appears, enter the device login password, install as usual
Step 5: (Important) After installation, do not run the P4tch file but open After Effect, will ask for login with a Adobe account, you can login with Gmail, then show the purchase panel like this, then close.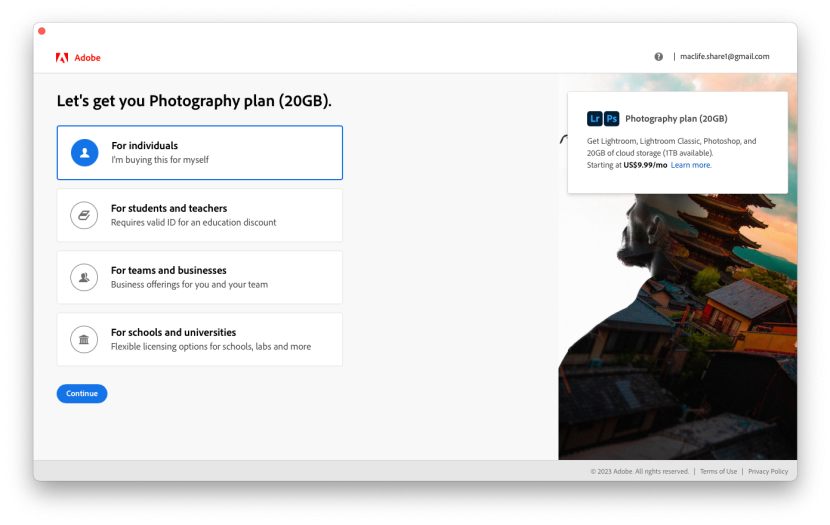 Step 6: At this point, just run the P4tch file and you're done. To avoid affecting other software, while installing note these 2 places
NOTE: 
The login account should have a Location of US. To be sure, you go to adobe.com and register a new account, while registering note the following: 
- Country/Region: United States
- Date of birthday: >18 years