In the realm of smartphones, Apple's iOS devices stand out for their sleek design, intuitive user interface, and robust performance. However, even these devices aren't immune to technical glitches and system malfunctions. When faced with a frozen screen, unresponsive apps, or even the dreaded Apple logo loop, users often find themselves in a frustrating predicament. Enter AimerLab FixMate, a pioneering iOS system repair tool that has gained recognition as the ultimate solution for resolving such issues and bringing malfunctioning iOS devices back to life.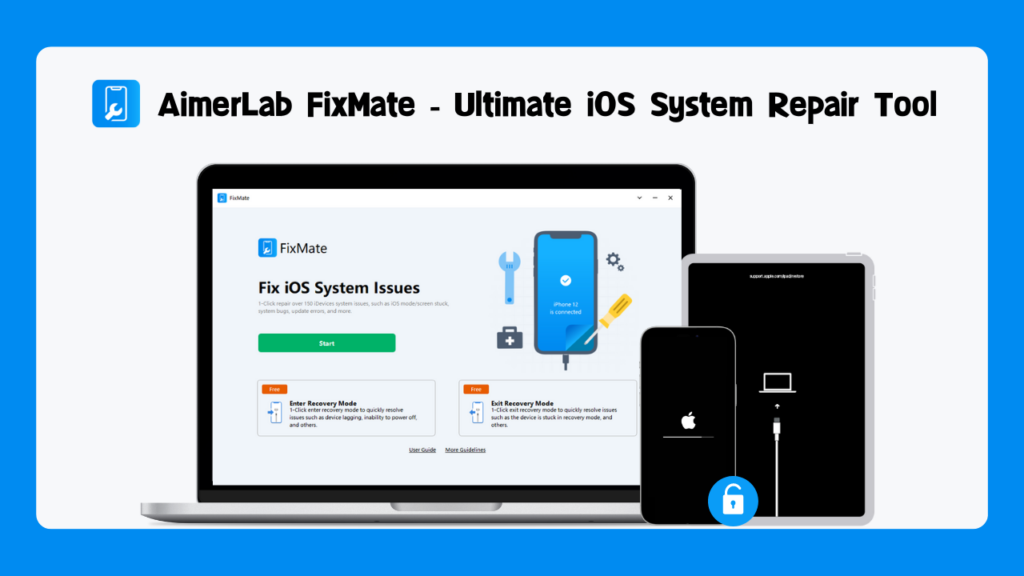 1. What is AimerLab FixMate?
AimerLab FixMate is a powerful software tool designed to fix 150+ iOS system issues. Developed by AimerLab, a reputable company specializing in data recovery and system repair solutions, FixMate has garnered a reputation for its effectiveness and simplicity in resolving complex iOS issues. The software serves as a one-stop solution for users seeking to repair their iPhones, iPads, or iPods without the need for extensive technical knowledge.
2. AimerLab FixMate Features & Specs
The AimerLab FixMate is a powerful repair tool that is appropriate for both casual users and tech experts. With FixMate, you are able to resolve a number of different system problems you're facing on your iOS device.
Here are the technical details of FixMate.
| | |
| --- | --- |
| Developer | AimerLab Inc. |
| Software Name | AimerLab FixMate |
| Reviewed Version | V2.2.0 |
| Size | 46.0MB |
| Supported Languages | English, Chinese, Chinese Simplified, Chinese Traditional, French, German, Italian, Japanese, Portuguese, Spanish |
| Compatibility | Work with all iPhone/iPad/iPod devices and all iOS versions including the latest iOS 16. |
AimerLab FixMate can save you time and effort by automatically resolving a number of common and serious system errors in the appropriate situations. Some mistakes are typically impossible for a non-technical individual to repair, then AimerLab FixMate can be useful. FixMate has the following features to assist users:
1-Click Fix iOS/iPadOS/tvOS system issues.
Fix 150+ iDevices system issues including stuck on recovery mode, stuck on SOS mode, stuck
on white Apple logo, reboot loop, black screen, updating errors and other system issues.
1-Click Enter or exit recovery mode (100% Free).
Use Standard Repair mode to fix basic issues without losing any data.
Use Deep Repair mode to fix more serious system issues with a high success rate.
Compatible with all Apple Devices and versions, including the latest iPhone 14 (all models)
and iOS 16.
3. How does AimerLab FixMate work?
Using AimerLab FixMate to repair your iOS device system issues is a relatively simple process. Here's a step-by-step guide to help you use FixMate effectively:
Step 1: Go to the FixMate's official site, download, install and then launch FixMate.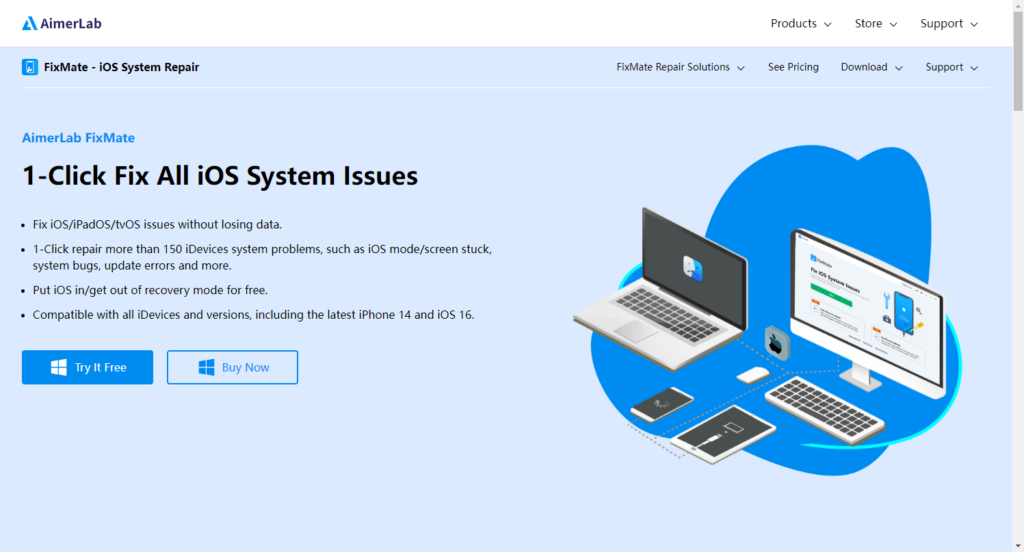 Step 2: Use a USB cable to connect your malfunctioning iOS device to your computer. FixMate will detect your device and show it's status on the interface.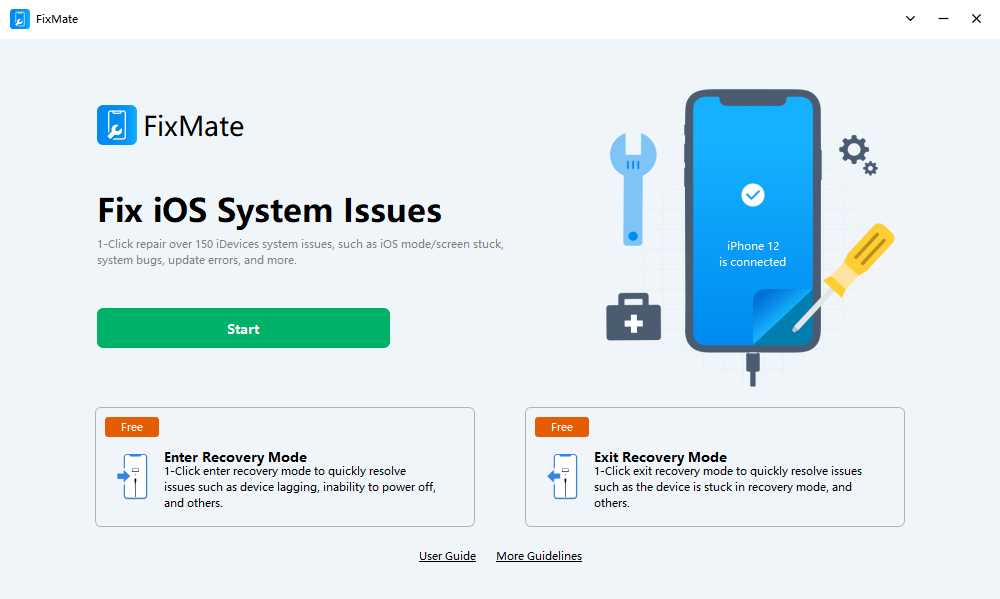 Step 3: Enter/Exit Recovery Mode.
If your iOS device is stuck in recovery mode, click on the "Enter Recovery Mode" button. This will initiate the process to put your device into recovery mode.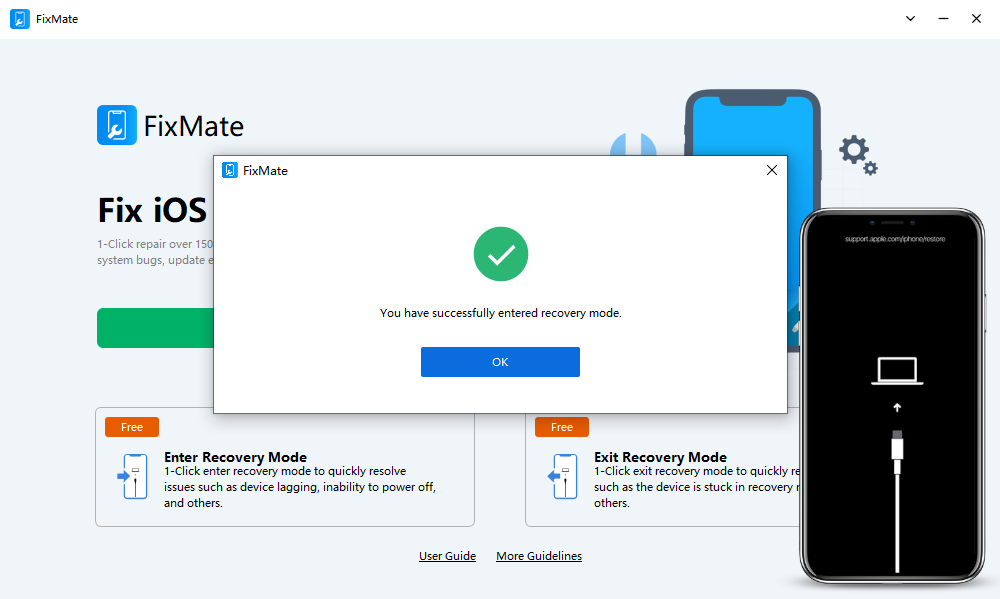 If your iOS device is already in recovery mode and you want to exit it, click on the "Exit Recovery Mode" button. FixMate will work to take your device out of recovery mode.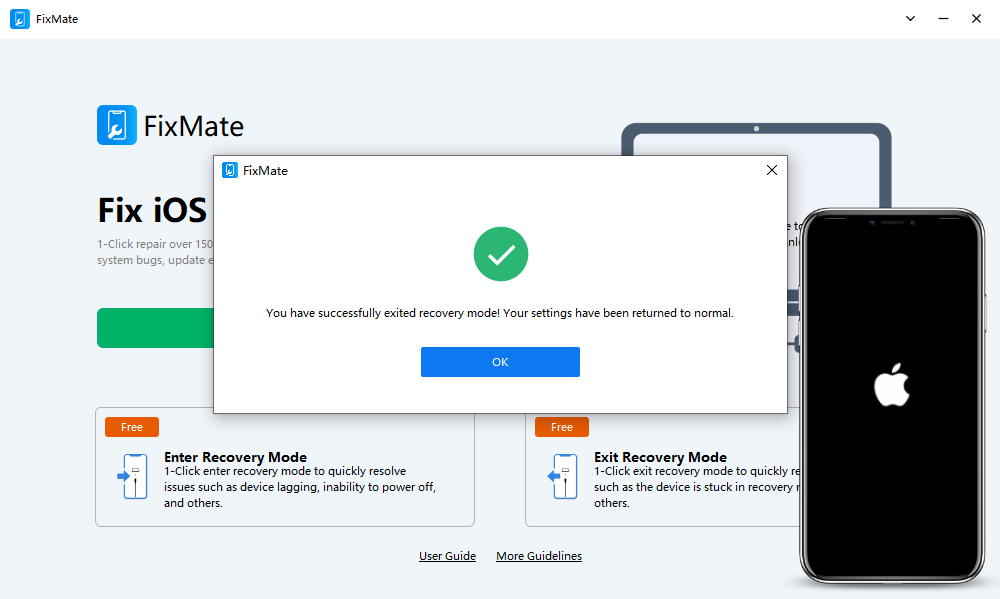 Step 4: If your iOS device is facing more complex issues, you can find the "Fix iOS System Issues" option and click the "Start" button to begin the repair process. This can help fix issues like a black screen, frozen screen, or boot loop.
Step 5: Choose a repair mode to repair your device issues. In Standard Repair mode, you can fix basic issues without losing any data. In Deep Repair mode, you can fix more serious system problems with a high chance of success, but you will lose data on the device.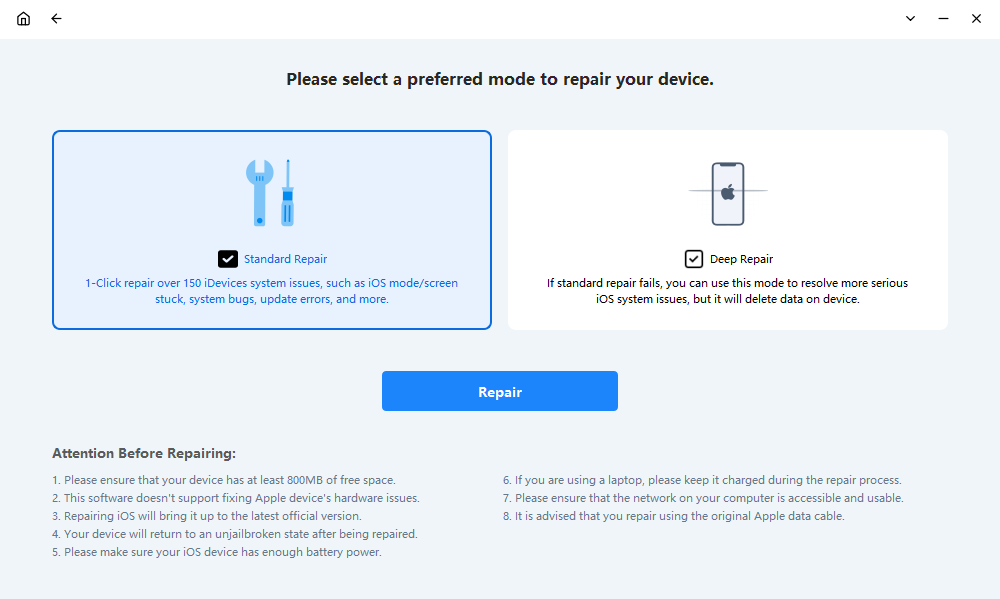 Step 6: FixMate will prompt you to download the necessary firmware package, you need to click the "Repair" button to start the download.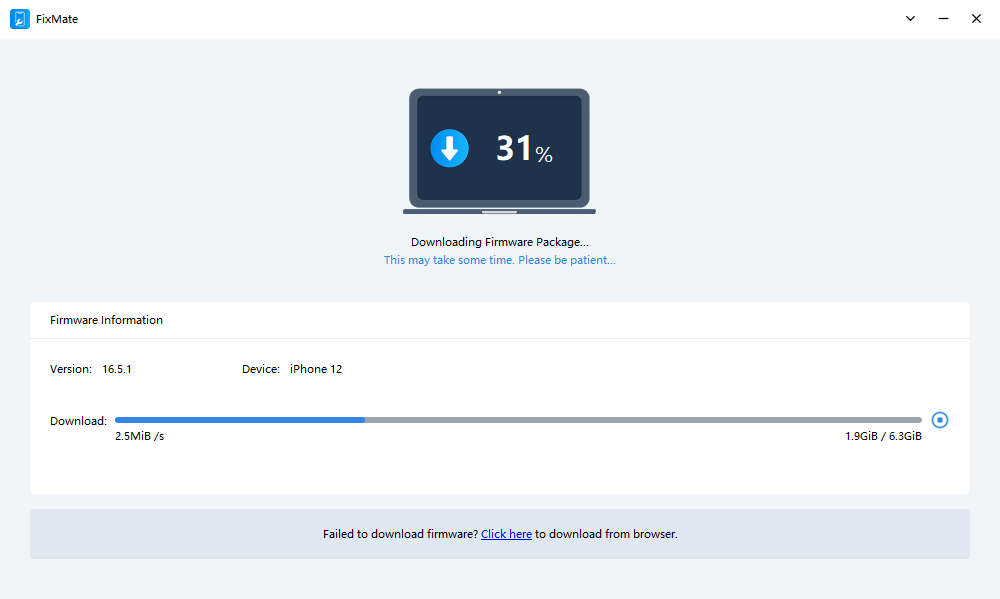 Step 7: After downloading the firmware, FixMate will start fixing all the issues on your device.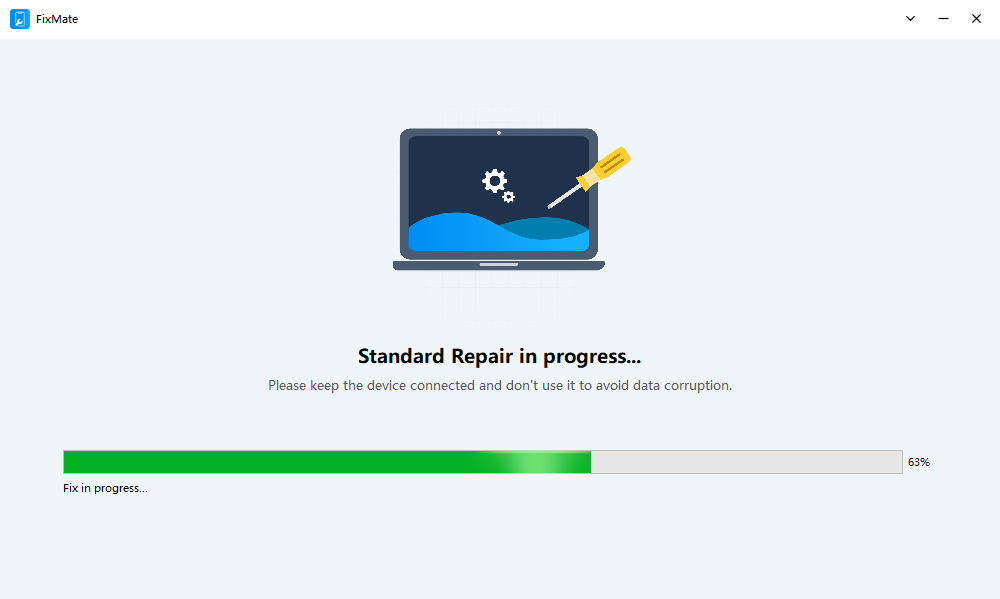 Step 8: Once the repair is complete, your device will automatically reboot. Check to see whether the issues you were having have been fixed. Your Apple device should now work normally.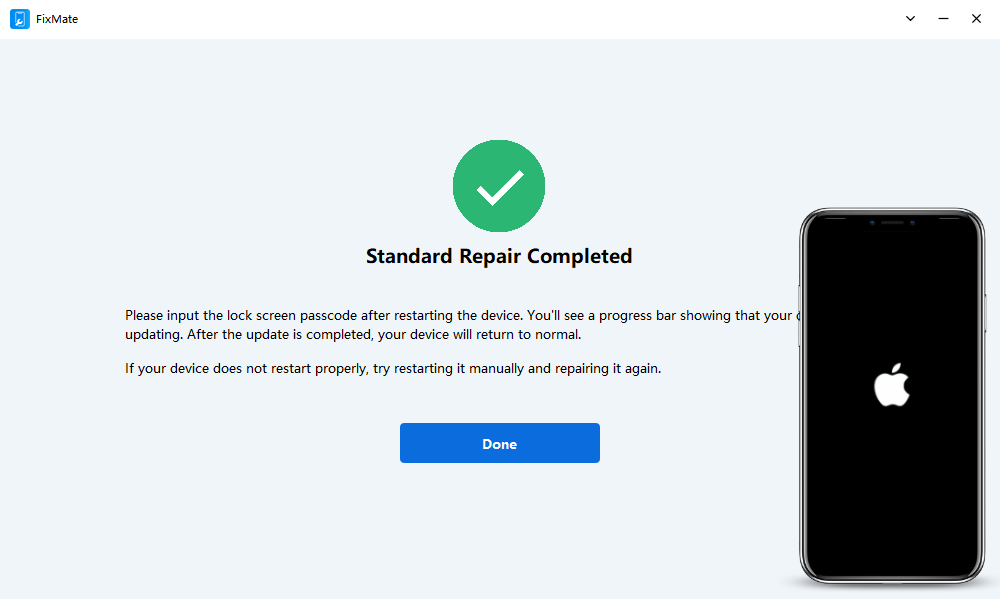 4. AimerLab FixMate Pricing
AimerLab FixMate provides both free trial and pro version for its' users. The free trial allows to use the enter and exit recovery mode without limits, however, if you want to use the FixMate to fix system issues on your device, you need to upgrade your FixMate account to the Pro version. FixMate offers multiple subscription tiers, allowing users to choose the option that best aligns with their needs and budget. The pricing can vary based on the duration of the subscription, and here are the price details:
| | | |
| --- | --- | --- |
| FixMate's Plan | Price | Details |
| 1 Month | $19.95 | Enjoy all premium features/5 devices/License valid for 1 month |
| 1 Year | $44.95 | Enjoy all premium features/5 devices/License valid for 1 year |
| Lifetime | $74.95 | Enjoy all premium features/5 devices/License valid for lifetime |
All plans have have a 30-day money-back guarantee, you can buy a plan from the FixMate's official website or get FixMate extra 25% off on apphut.io.
5. Conclusion
In a world where our devices have become extensions of ourselves, encountering technical glitches can be distressing. AimerLab FixMate emerges as a beacon of hope, offering an effective and user-friendly solution to resolve various iOS system issues. Its versatility, ease of use, and impressive array of features make it a standout tool for individuals seeking to rejuvenate their iOS devices. From rescuing devices stuck in recovery mode to rectifying updating errors, FixMate proves its mettle as a comprehensive iOS system repair tool, suggest downloading it and have a try.