Wondershare Recoverit is a reliable data recovery software designed to help users retrieve their lost or deleted files from various storage devices. With its powerful features and intuitive interface, Recoverit has become a trusted solution for individuals and businesses alike. In this article, we'll explore the standout features of Wondershare Recoverit, showcasing why it's an essential tool for data recovery.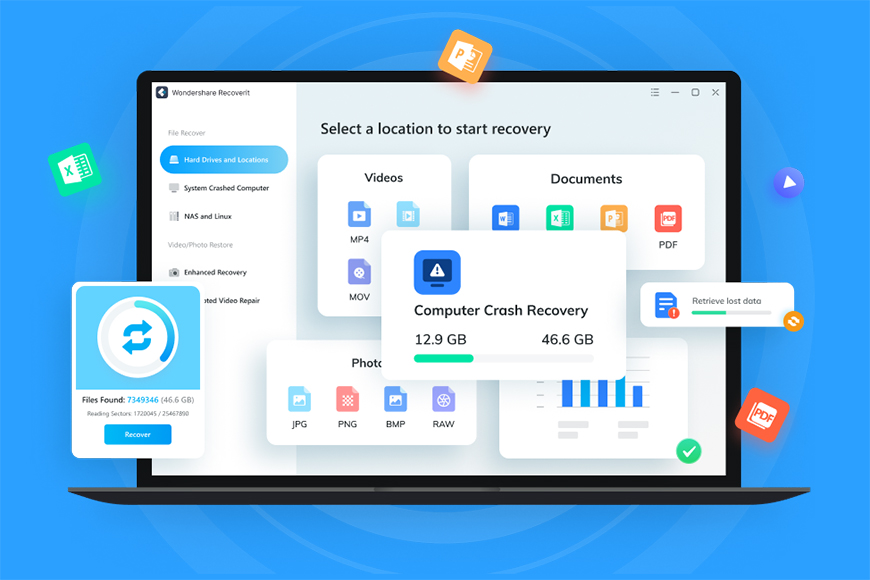 Wide Range of File Recovery: Wondershare Recoverit supports the recovery of various file types, including documents, photos, videos, audio files, emails, and more. Whether your data loss was due to accidental deletion, formatting, system crashes, or virus attacks, Recoverit can help you recover your valuable files from internal and external storage devices.
Easy-to-Use Interface: Recoverit features a user-friendly interface that makes data recovery accessible to users of all levels of technical expertise. Its intuitive design guides you through the recovery process step by step, ensuring a smooth and hassle-free experience. With just a few clicks, you can initiate a scan, preview recoverable files, and restore them to a safe location.
Advanced Data Recovery Algorithms: Behind its simple interface, Wondershare Recoverit employs powerful data recovery algorithms that can retrieve lost data from even the most challenging scenarios. Whether your files were deleted, lost due to a partition error, or inaccessible due to a corrupted drive, Recoverit's advanced scanning technology can locate and recover your data effectively.
Deep Scan and Quick Scan Options: Recoverit offers both Quick Scan and Deep Scan options to cater to different data loss situations. Quick Scan swiftly scans your storage device for recently deleted files, providing a fast recovery solution. Deep Scan, on the other hand, thoroughly searches your device sector by sector, ensuring a comprehensive recovery even for files that were deleted or lost a long time ago.
Preview and Selective Recovery: Before proceeding with the recovery process, Recoverit allows you to preview the recoverable files. This feature enables you to assess the integrity of the files and select the specific ones you want to recover, saving you time and storage space. You have full control over which files to restore, ensuring a targeted and efficient recovery.
Supported Storage Devices: Wondershare Recoverit supports a wide range of storage devices, including internal and external hard drives, solid-state drives (SSDs), USB drives, memory cards, cameras, and more. Whatever the device, Recoverit offers a solution to recover your data, providing peace of mind in critical situations.
Wondershare Recoverit is a powerful and user-friendly data recovery software that helps users retrieve their lost or deleted files effortlessly. With its wide range of file recovery capabilities, easy-to-use interface, advanced data recovery algorithms, deep scan and quick scan options, preview and selective recovery feature, and support for various storage devices, Recoverit is an essential tool for individuals and businesses facing data loss.
Download Wondershare Recoverit today and regain access to your valuable data. Safeguard your files and recover lost memories with the help of this reliable data recovery software.
Download