Adobe XD is a versatile design and prototyping tool that empowers UI/UX designers to create exceptional digital experiences. With its intuitive interface and powerful features, Adobe XD has become a go-to tool for designers worldwide. In this article, we'll explore the standout features of Adobe XD, highlighting why it's an essential tool for design professionals.
Design and Prototype in One Tool: Adobe XD offers a seamless design-to-prototype workflow, allowing designers to create both static designs and interactive prototypes within a single application. With this integrated approach, designers can streamline their workflow and bring their ideas to life, all in one place.
Responsive Design: With the rise of mobile and multi-device experiences, responsive design has become crucial. Adobe XD simplifies the process with its responsive design features. Designers can create layouts that adapt to different screen sizes and orientations, ensuring a consistent user experience across devices.
Repeat Grid: The Repeat Grid feature in Adobe XD empowers designers to rapidly create grids of repeating elements, such as lists or image galleries. By simply dragging and resizing elements, designers can create dynamic and data-populated designs with efficiency and precision.
Interactive Prototyping: Adobe XD's interactive prototyping capabilities enable designers to bring their designs to life by adding interactive elements, transitions, and animations. Designers can create clickable prototypes that simulate user interactions, providing a realistic preview of the final user experience.
Collaborative Design: Collaboration is made easy with Adobe XD's collaboration features. Designers can share their work with team members and stakeholders, gather feedback, and make real-time updates. This collaborative approach fosters effective communication and ensures everyone is on the same page throughout the design process.
Integration with Creative Cloud: As part of the Adobe Creative Cloud suite, Adobe XD seamlessly integrates with other Adobe applications such as Photoshop and Illustrator. Designers can import assets from these applications directly into XD, making it easy to leverage existing design resources and maintain consistency across projects.
UI Kits and Plugins: Adobe XD offers an extensive collection of UI kits and plugins, providing designers with ready-to-use design assets and additional functionality. UI kits provide pre-designed elements and components, accelerating the design process. Plugins extend the capabilities of Adobe XD, allowing designers to add custom features and integrate with other tools.
Adobe XD is a powerful and comprehensive design tool that enables designers to create stunning user interfaces and interactive prototypes. With its features such as responsive design, Repeat Grid, interactive prototyping, collaborative design, integration with Creative Cloud, UI kits, and plugins, Adobe XD empowers designers to bring their creative visions to life.
Embrace the power of Adobe XD and elevate your design process to new heights. From concept to interactive prototype, Adobe XD is the ultimate tool for designing exceptional digital experiences.
Download
How to install & active
(You still have to turn off Gatekeeper first)
Step 1: Download the installation file (recommended to use the latest version in the above links)
Step 2 (Important): Go to the following link to download and install Adobe Creative Cloud on the Adobe homepage first (If yes, then only) or if you don't want to install Creative Cloud, run the file AntiCC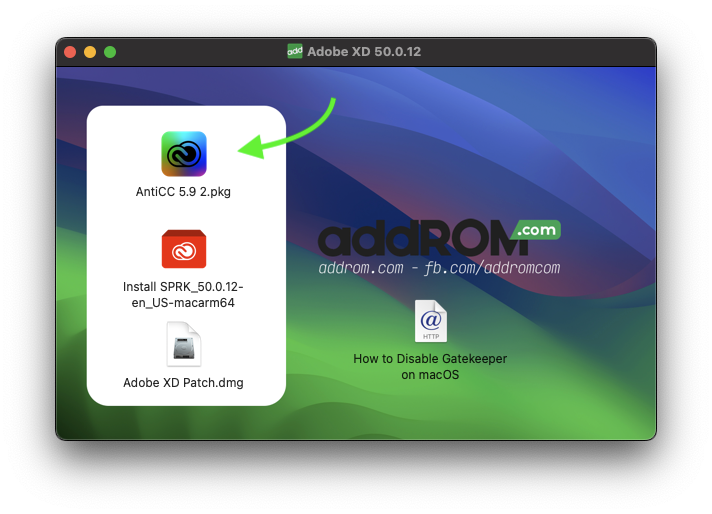 Step 3: Right-click and choose Open file Install SPRK_50.xxx – If not, right-click and open again.
Step 4: Then open the Adobe XD Patch.dmg > double-click to open the macOS folder, then drag the Adobe XD file to the newly opened MacOS folder, choose Replace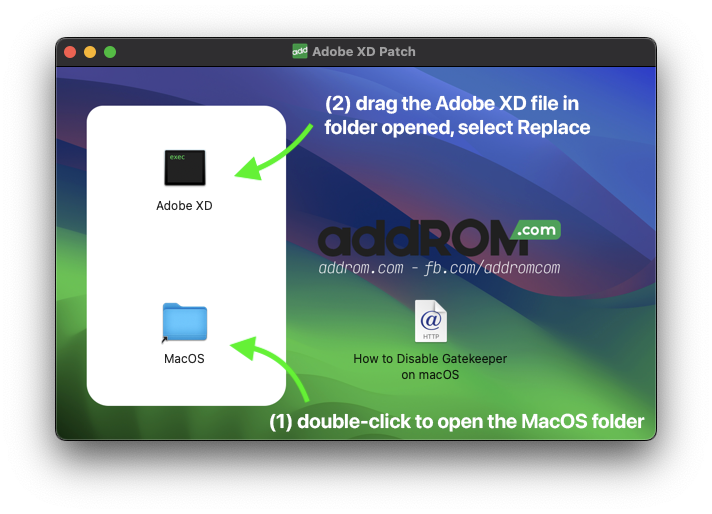 Step 5: Open Terminal and run 3 more commands:
xattr -cr /Applications/Adobe\ XD/Adobe\ XD.app/Contents/MacOS/Adobe\ XD
sudo xattr -rd com.apple.quarantine /Applications/Adobe\ XD/Adobe\ XD.app/Contents/MacOS/Adobe\ XD
sudo codesign --force --deep -s - /Applications/Adobe\ XD/Adobe\ XD.app/Contents/MacOS/Adobe\ XD
Step 6: Done