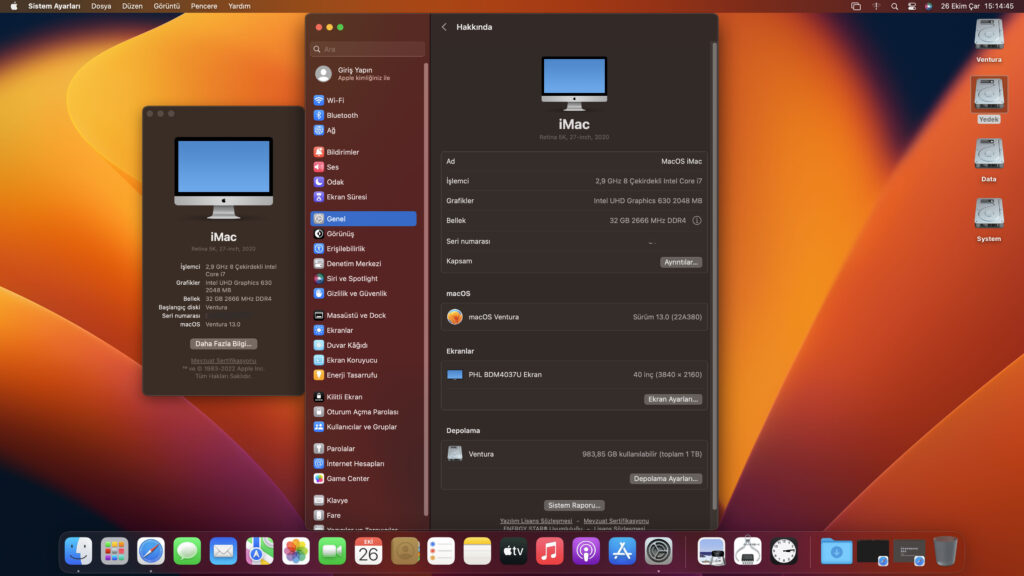 Info:
- Mainboard : Asus ROG Strix Z490-G Gaming wifi Atx
- Chipset : Intel Z490
- CPU : i7 10700 2.9GHz 16MB LGA1200 14nm HD630
- Display : Philips BDM4037UW/00 40" 4ms (Analog+Display+HDMI) 4K Ultra HD IPS
- Stograge : Corsair MP400 1TB Gen3 PCIe x4, NVMe M.2 SSD (3.400 MB/3,000 MB) + Seagate Constellation 3.5" 4TB 7200RPM Hard Disk ST4000NM0053
- RAM : Corsair Vengeance Lpx 32Gb (2 X 16Gb) DDR4 3600Mhz
- USB : All Ports Working including USB 3.1
- Sound : Supreme FX S1220A Layout-id 7
- 4K Display The resolution is working fine.
I am making the Internet Connection with Usb TYPE-C to ethernet converter at the moment.
Not Working Hardware:
Network : Intel I225-LM Ethernet + Intel® WiFi 6 AX201
Display Port and HDMI : There is picture but no sound
Preparing the BIOS befor installation:
BIOS settings have been reset to default settings (Load Default Settings).
SATA: AHCI
4g Decoding: Enable
Serial Port: Disabled
VT-D: Disabled
VT-X: Enable
XAMP: Profile 1
OC Tuning: Extreme
Boot Mode: UEFI
Secureboot: Set to Disable (Other OS)
Boot Option Priorities: UEFI is set to USB.
Installation:
I did it without any problems by getting an update via Montery…
Download:
Thank Bluebeard_us